What we are doing
Following a comprehensive strategic review of the charity, the Trustees of Autonomie set an ambitious target to support over 120 young people with disabilities over the next 2 years.
In 2018, we opened a new dedicated centre, have extended our team and continue to enhance our services.
How we developed our strategy?
We listened to many voices.
We heard from young people and their families about their experiences.
Our volunteers shared their experiences.
We met with many others from outside the organisation including teachers and youth workers to discuss how, together, how we can improve support for young people and their families.
Transition into adult life
Supporting families in Belfast and surrounding areas our new and improved services help children and young people with disabilities live their lives as independently as possible.
In order to invest in community-based programmes we have:
opened a new centre

have increased our number of front-line staff and volunteers

developed our infrastructure
Some more issues we are tackling

The lack of personal support available; during the difficult transition into adult life

The gap in support between later school years and adult day centres/education/employment

Isolation, lack of information and support networks & fear and uncertainty about the future for their young person

Lack of geographical consistency in services and support available

Frustration about these circumstances that persist, despite local government policies to address them

Support networks/parents, lack information and have a sense of isolation
We have launched 'What Next?' community-based pilot project in partnership with The National Lottery Community Fund's 'Empowering Young People' Programme. This enhanced programme from the onset will offer workshops, training, discussion and outings to even more young people.
'What Next?' project offers practical support for young people with disabilities who face challenges in making their transition into adult life.
The project offers training programmes with an educational and work focus, in addition to programmes aimed at developing social and communication skills, confidence and self-esteem and prevent poor mental health.
Autonomie beneficiaries can be a part of our mentoring scheme. This empowerment project develops structured opportunities for young people to support and befriend another young person. Beneficiaries are directly involved in the planning of the project through ongoing consultation.
Autonomie will offer young beneficiaries the chance to achieve a certificate in counselling. Up to 25 young people with additional needs can gain a PCAB Level 2 Award in Counselling Skills. This tailored accredited course will be run by qualified facilitators at our new centre.
Wellbeing Room at Lilac House
A space in Lilac House to promote relaxation and stress management in young people with physical and learning disabilities, their parents, carers, siblings and extended families.
Although many families with disabled children manage their lives as effectively as other families, some such families may require counselling to facilitate the integration of the disabled child into the family, to learn how to cope in a world of changing attitudes toward both them and the child as well as society's attitude to disability. Using trained professionals parents, caregivers and siblings can access one-to-one or group counselling free of charge!
We have plans to expand our Careers Advisory Service with our dedicated career officer in order to support more young people and parents.
Further Training and Education
Lilac House's emphasis is on learning and connecting in a supportive, creative, outward-looking environment. It engages with educators, peer groups, social workers and mentors from within the broader Belfast area to create relationships, networks and communities.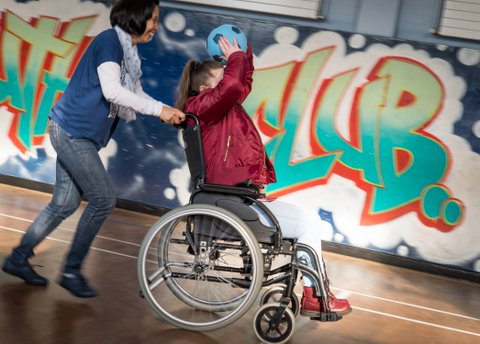 Autonomie offers a 'social model' supporting young people to focus on their strengths/abilities and learn to 'self-help'. The primary beneficiaries are around 120 young people aged 16-25 years over three years with learning and physical disabilities that impact on their individual day to day functioning.
These are young people face numerous barriers to learning and employment. Other young people benefiting from this project are siblings and friends – i.e. their closest peer support network – and members of associated community-based and/or statutory groups. In addition, the immediate support networks will benefit – carers, parents and extended families.
To improve the quality of life and well-being of young people with disabilities through supported learning and recreational opportunities.
To build self-confidence and empower the young people to make choices and lead a fuller, more independent life in their chosen community through training and independent living opportunities.
To build self-help skills by having young people and their families directly and meaningfully involved in the creation, development and delivery of the project, sharing learning, expertise and experience.
To prepare young people for leaving special schools and entering further education, employment and leisure opportunities.
To help young people feel more equipped to access social and recreational activities in the community and to form friendships.
To extend wider support networks and build relationships by proactively developing links with the local community, support services, agencies and other groups.
To prepare young people for engagement in further/vocational education, supported employment opportunities, work experience and visits.
To provide family/carer support in order to strengthen their support networks.
We are different from other charities, service providers and agencies in that we are a small, low cost organisation that works on a personal relationship level and in a holistic way with all its beneficiaries. This is the vital support gap that needs to be closed to help young people with disabilities into their chosen adult world of work, relationships, housing and recreation. Our centre (Lilac House) in the heart of south Belfast and our enhanced services allow a step forward towards a fully rounded confidence-building transitional experience.
Volunteers are vital to our work. To achieve our goals, we need to build a movement of committed people who believe disabled young people deserve the same opportunities as everyone else. We can't do this without you. Join us!
To view our volunteering flyer click on the link to download. To request a copy in the post, use our online contact form available on the website here. Alternatively, telephone us on 028 9591 8051 and speak to a member of our team.
For further information please contact Lynne Morrison, Services Manager at hello@autonomie.org.uk or call Lynne on 028 9591 8051